Jerry Curly Natural Color Brazilian Remy Human Hair Lace Frontal Closure 13X4 13X4LCHA-06
Jerry Curly Natural Color Brazilian Remy Human Hair Lace Frontal Closure 13X4

1. Item Name.: Jerry Curly Natural Color Brazilian Remy Human Hair Lace Frontal Closure 13X4
2. Item No.: 13X4LCHA-06
3. Lace Base" 13"x4"
4. Texture:Jerry Curly
5. Hair Color: Natural Color
6. Hair Length: 8", 10", 12", 14", 16", 18", 20"
7. Material: 100% remy human hair
8. Density: 130%
9. Life Time: Last More Than 8 Months With Proper Care
10. Shippment: We Promise That We will deal with the Orders ASAP Within 24-48 Hours, Except Sunday (GMT+8 Beijing, China)
11. Delivery Time: It Usually Needs 3-6 Working Days to USA and Europe, 5-10 Working Days to Africa, Free Shipping by DHL or Fedex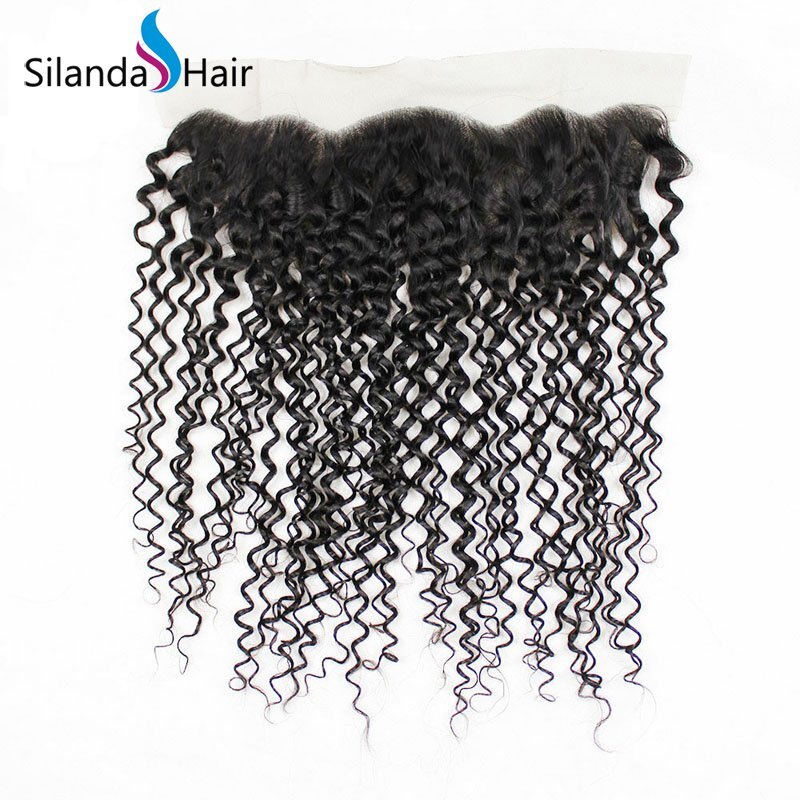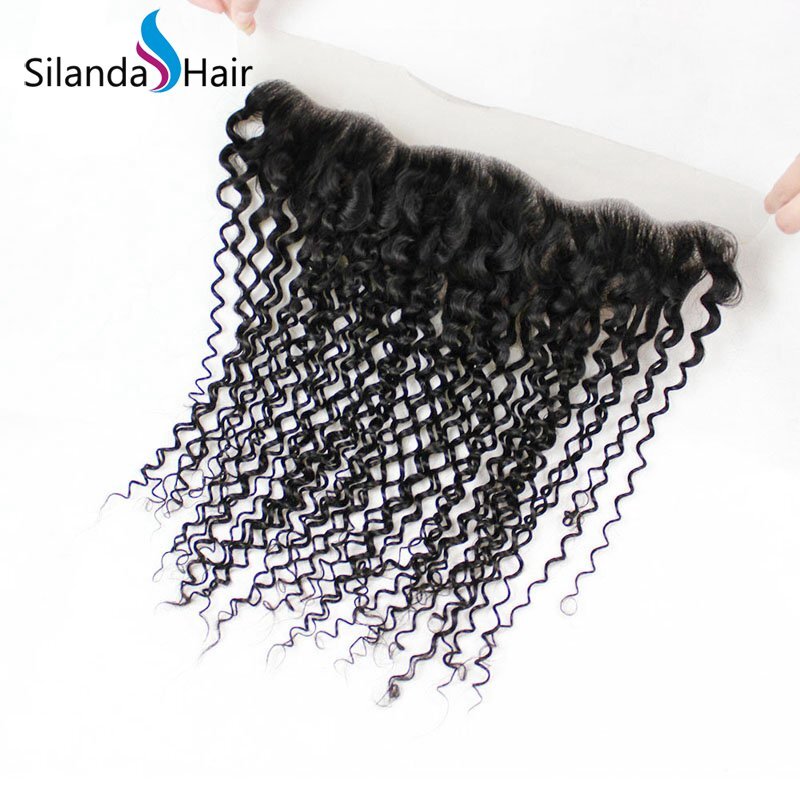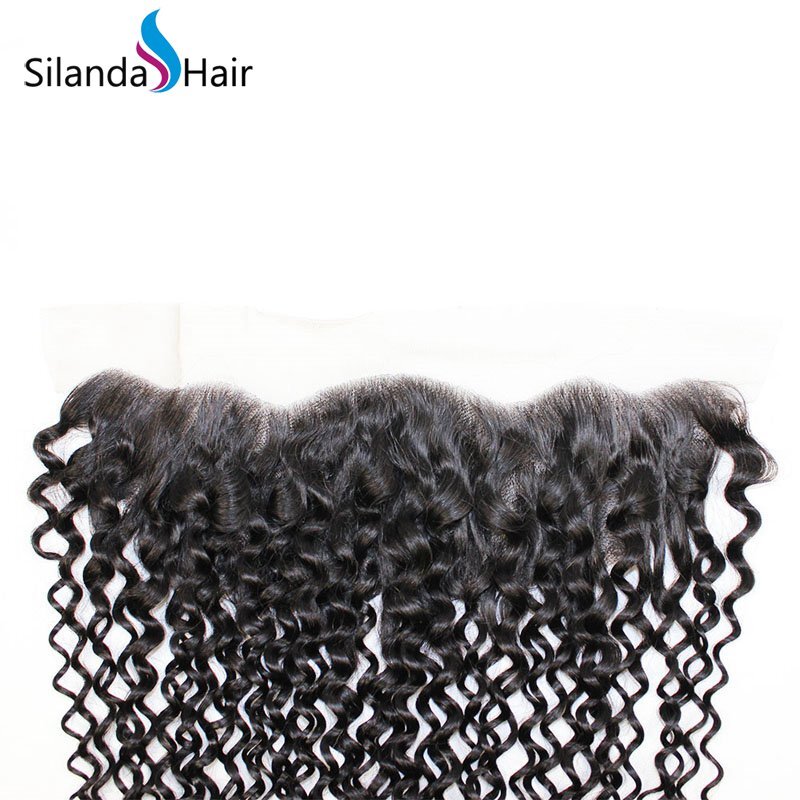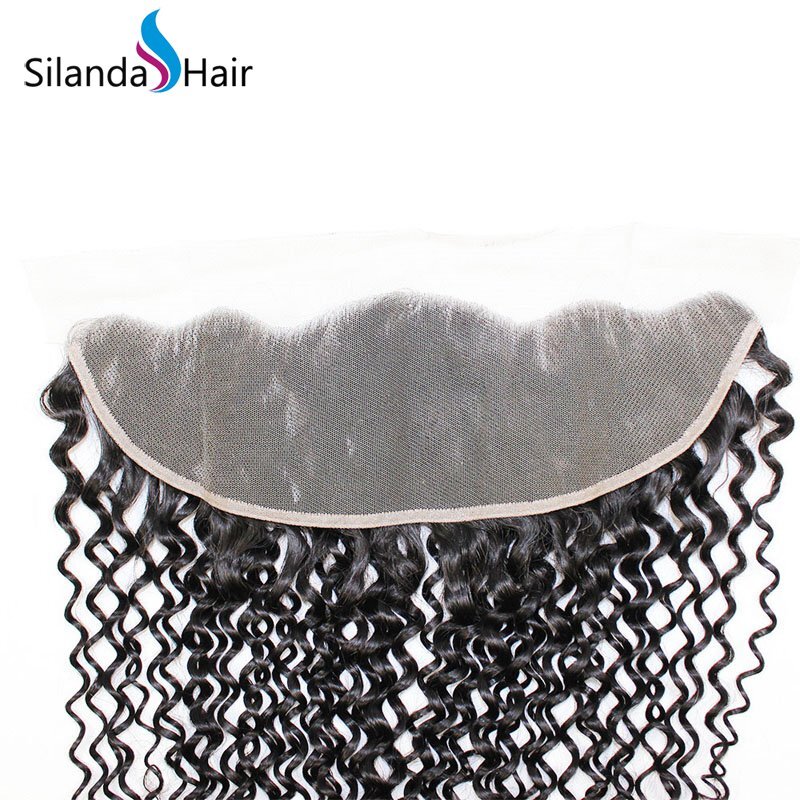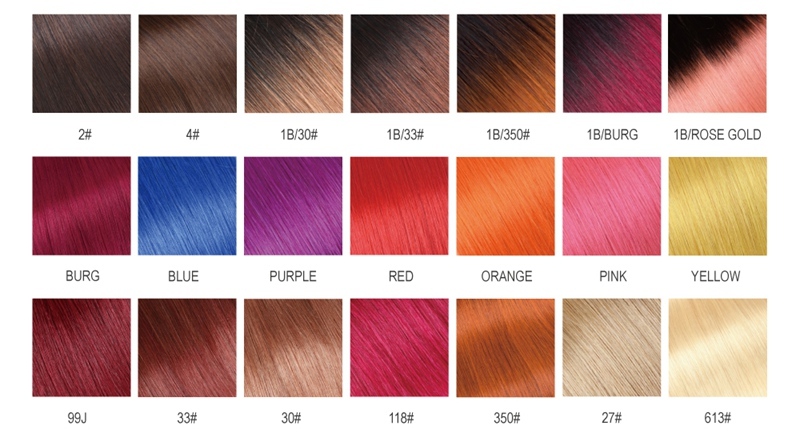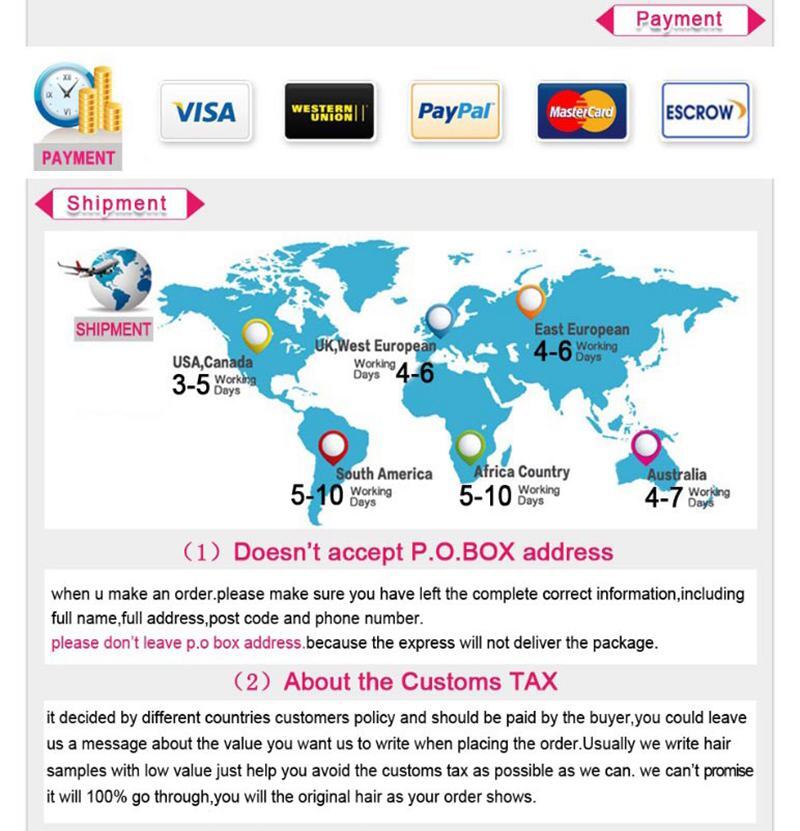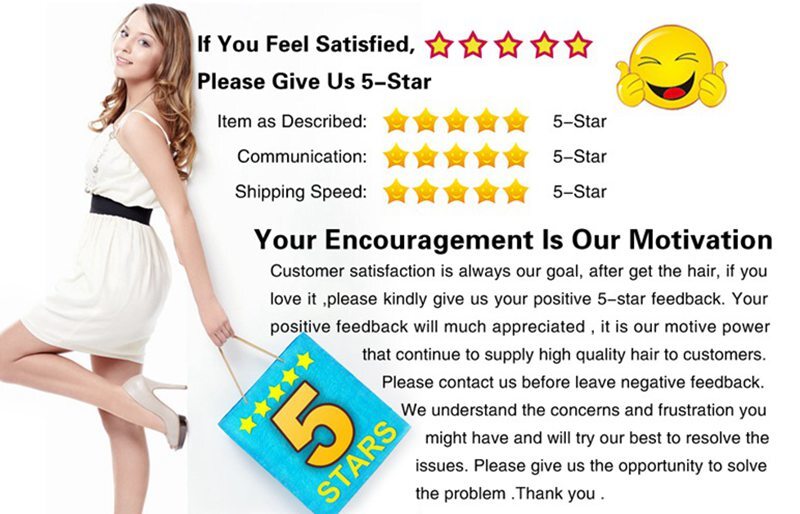 Besides Of Jerry Curly Natural Color 13"X4" Lace Frontal Closure,We Recommend You Straight Natural Color 13"X4" Lace Frontal Closure,Deep Wave Color 13"X4" Lace Frontal Closure,Natural Wave Natural Color 13"X4" Lace Frontal Closure
Tags:Jerry Curly Natural Color 13"X4" Lace Frontal Closure,Straight Natural Color 13"X4" Lace Frontal Closure,Deep Wave Color 13"X4" Lace Frontal Closure,Natural Wave Natural Color 13"X4" Lace Frontal Closure
Customized Service:
Hair Type: Free part,three part,side part
Hair Texture: Straight, Body Wave, Loose Wave, Natural Wave, Water Wave, Deep Wave, Loose Deep Wave, Jerry Curly, Kinky Curly, Kinky Straight
Hair Length: 10 inch -20 inch
Hair Density: 130%, 150%, 180%
Hair Quality:
1. Unprocessed Virgin Remy Human Hair, real human hair
2. Soft, clean, healthy hair end, no lice

3. No shedding

4. No tandling, top quality virgin remy hair

5. 100% virgin remy human hair without any mix. Can iron and dye, bleach

6. can keep the texture after wash

Hair Color: Dark color: #1, #1b,#2,#3,#4,#6.
Medium color:#7,#8,#10,#12,#14,#16,#30,#33,#130,#350,#530,#99j,#144

Light color: #18,#20,#24,#27,#60,#613,#120.

Bright color: red, blue, purple, green, yellow, orange, pink,

Two tone, mixed color, Piano Color (face to face color/side by side color) any color is available.

We also can make color as your own color chart

Wholesale price list for the Human Hair
Silanda Hair can supply the factory price with good quality hair without middle man price. And Supply the Drop Shipping Service.The customer can mix the hair inch and texture, more coupon and details contact us by email or whatsapp.
Is there difficulty to find a reliable hair supplier with factory Price?
If you own a professional retail hair shop or hair boutique, silanda hair can supply the Good quality hair with factory price for your customer,which can help you expand your hair market. silanda hair can supply the drop shipping and private label for your hair logo, which can help you delivery the hair out to your customers directly and save the shipping fee for you and save time.
ByJUANA SLATERFriday, 04 October 2019
The hair came pretty fast . The company definitely kept me in the loop about my hair it is soft I haven't yet installed it but I will provide an update once I do so. Its good quality at a low price I'm excited to make my wig . The hair have no smell which is a plus for me thank you again.
ByKELLI CLEMENTSMonday, 23 September 2019
Still No Shedding Closure Did Not Bleach Very Well So Far Everything Is Great.
ByJEANNETTE CASTANEDAThursday, 19 September 2019
I just received my hair it didn't take long at all . The hair is soft and nice , there is no smell which is a good thing for me . I haven't installed it yet so I'll keep you all updated. The supplier is nice and very professional....
ByMarie CollinsThursday, 22 August 2019
I Am Very Happy contented in less than a week and arrived thank you so much for all I Will Buy Other Hair From You
ByLois LongWednesday, 24 July 2019
Great frontal..... going to order another one
ByHANNAH KINNEYFriday, 19 July 2019
The hair is beautiful will order again .
ByLeila LementsTuesday, 18 June 2019
I bought the frontal to go with for bundles I order from this vendor and I'm super happy with my purchase ... I highly recommend. So far I have no shedding from my frontal
ByLauri KiddFriday, 10 May 2019
Frontals thick and voluminous, no funny smell. I've heard nothing but good review from this company so I will be delighted to buy from them again.
ByLauren WadeFriday, 05 April 2019
the frontal was very soft and although I ordered 16" the frontal was definitely a lot longer looked like it was 20" the ends where very thin but since I was using it to make a bob anyway it really didn't bother me because I was going to cut it anyway.

Your cart is currently empty.