Hair Density Chart-What Hair Wigs Density Should You Choose?
Thursday, 27 February 2020

0

2078

0
Hair Density Chart-What Hair Wigs Density Should You Choose?

Hair Density is defined as how thick or thin the hair on your hair wigs will be.Normally people like the density 130% (Light to Medium) for full lace hair wigs or lace front hair wigs.It is difficult to define the density, because the density depends more on the hair length , wave , curl , color and so on.
A hair wigs with light hair density will not have as much hair on it. The hair density is about 120 - 150% of what a normal biological head of hair will be able to grow. These hair wigs also have very little permatease.
Hair can also grow thick around the hairline and thin every where else. If you order a custom hair wigs, you can chose the density to be the same percent all over or designate the density around the hairline, middle and back.
Generally, the classifications of hair density are thin, medium, and thick, and are unrelated to the texture of the hair. The average head has approximately 2,200 strands of hair per square inch, and a total of approximately 100,000 hairs.
Density is defined as how thick or thin you want your hair to be. The standard density is 130% which is Medium Density.If you do not like your hair to be too thick we suggest starting out with Light to Medium Density. 50% = Extra Light Density.While a scalp with an average density of hair has about 2,200 hairs per sq. inch, low-density scalps may have lesser than the said numbers per square inch and high-density areas will have more than 2,200 hair per sq. inch. On an average, a scalp with a normal density might have about 100,000 individual strands of hair. 80% = Light Density.
There is no way to increase the amount of hair follicles you have on your scalp. Hair restoration and scalp stimulants merely aid in healing a damaged follicle that is reparable; some damage is irreparable. ... Remember to use light products that do not weigh your hair down and be gentle as to not cause breakage.
This density is 150% thickness of an average head of hair. We recommend this density if you would like a fuller look but would still like the unit to look natural. Extra: This density is 180%-200% thickness of an average head of hair. This is too much hair for most women to look natural.
To find out your hair's density, take a front section of your hair and pull it to the side. If you can visibly see sections of your scalp underneath or through the hair, then your hair is thin. If you barely see your scalp at all, your hair is thick. If it's somewhere in-between, then your hair has a medium density.The total number of individual strands put together determines the density of the hair. In other words, density by itself means the number of hairs on your head.
We have large quantity of 130% Density of natural color hair wigs,613 blonde hair wigs in stock.



Density chart below is just for your reference.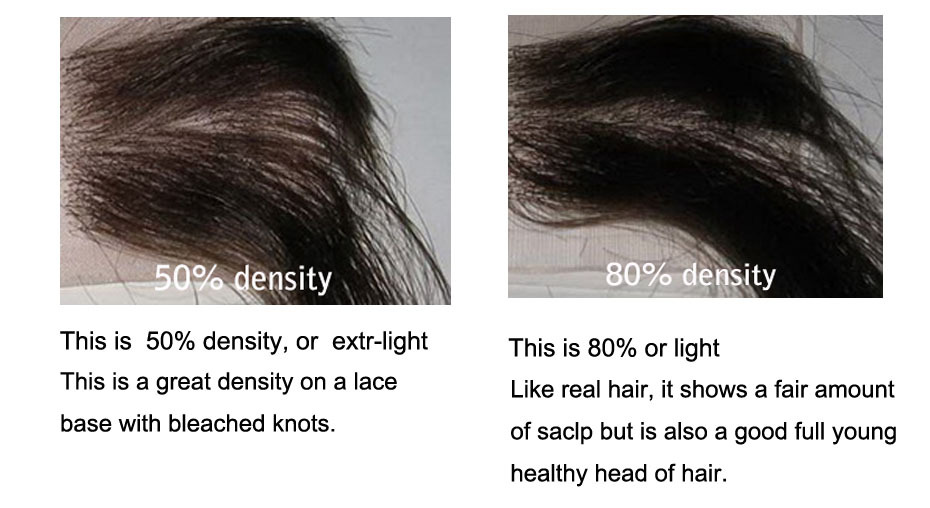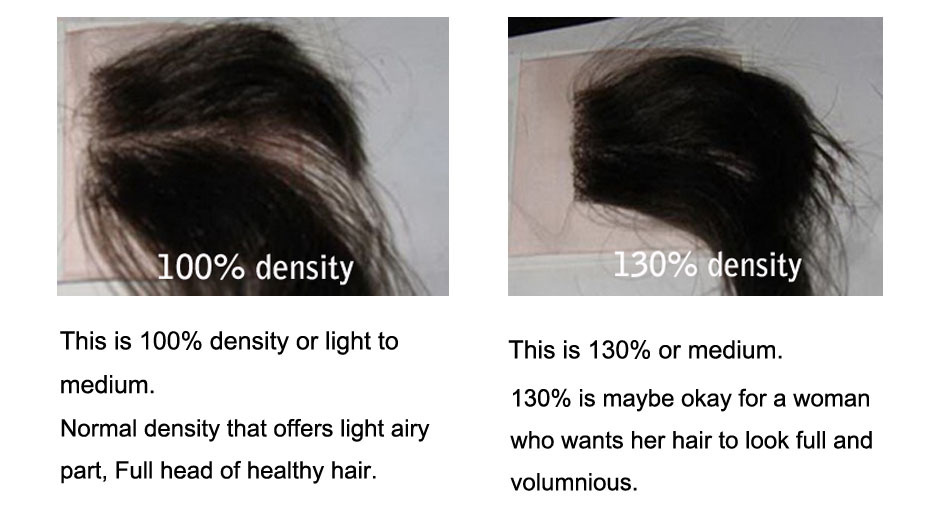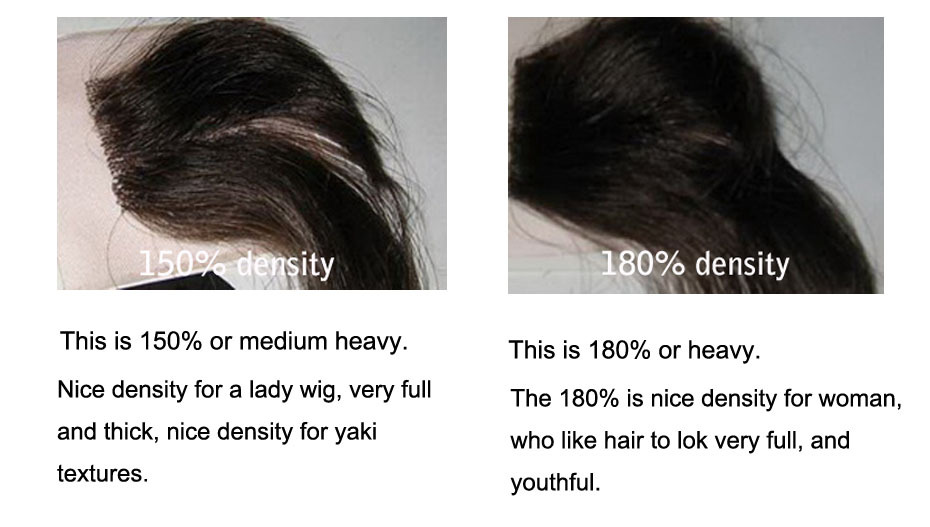 Tag:bundles with frontal,hair closure

Your cart is currently empty.